Two Infinities
---
Sun, 08 Apr 2018
Cedar Waxwings Eating Tree Flowers
Along the creek bed behind our warehouse next to a cottonwood tree stands a multi-stem tree with shallow furrowed bark like this: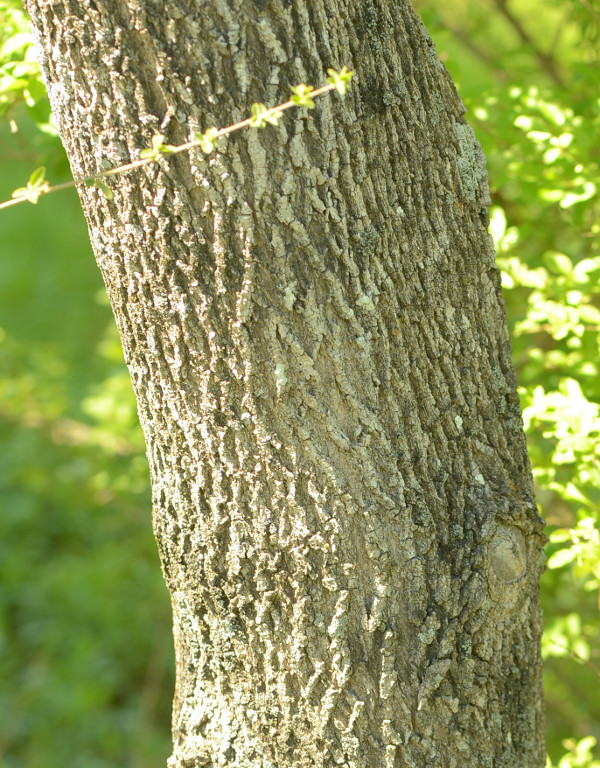 Leaves still in bud and flowers like this: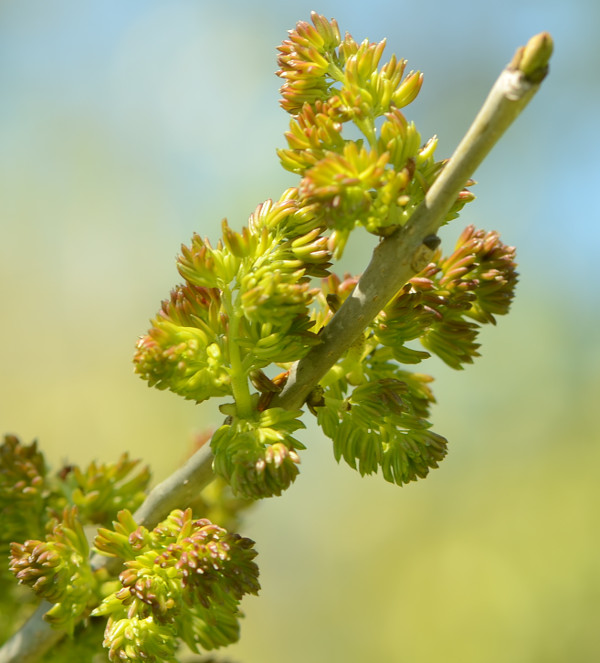 A small flock of cedar waxwings were busily eating the flowers it appeared: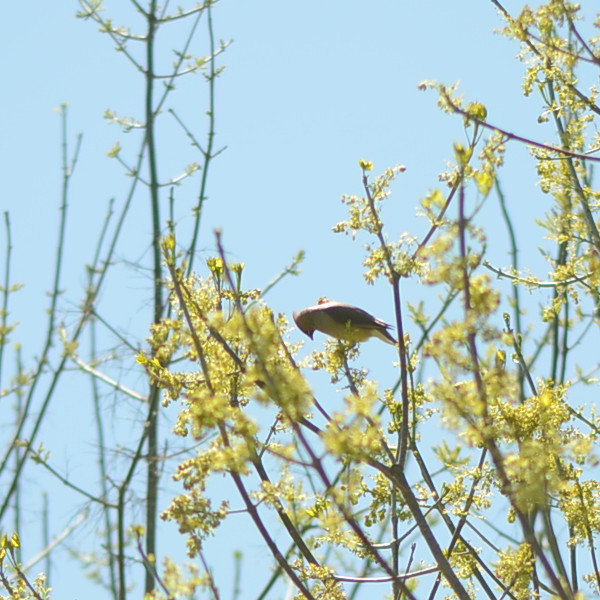 posted at: 21:25 | path: | permanent link to this entry
Sat, 09 Apr 2011
King Snake Crawl By
A short walk up our street brings one to an overlook of the Galleria, Alabama's largest indoor shopping mall. But an equally short walk in the other direction leads to houses nestled among the woods along Patton Creek. This finger of nearly natural land brings us the occasional wild visitor: armadillo quads, coopers hawks, deer. Last week JY found a young black king snake nearly underfoot.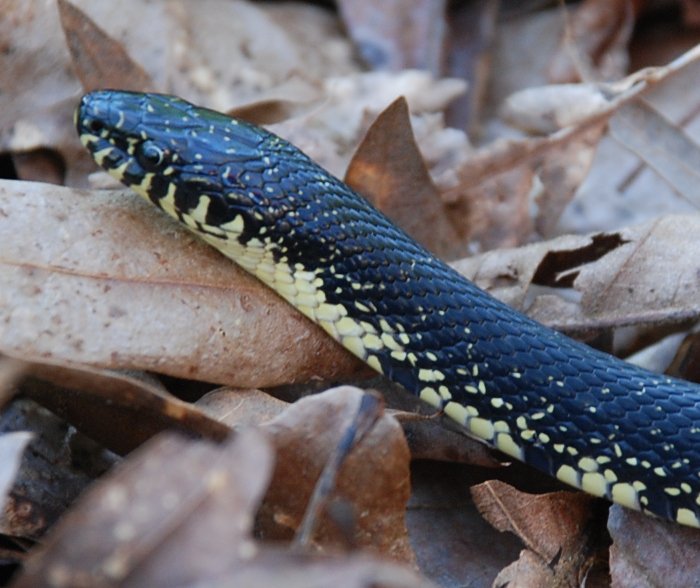 It was about 18 inches long and quite small in diameter as you might infer from the size of the oak leaves in the litter around it. It did not seem to be frightened and allowed the camera to come quite close in.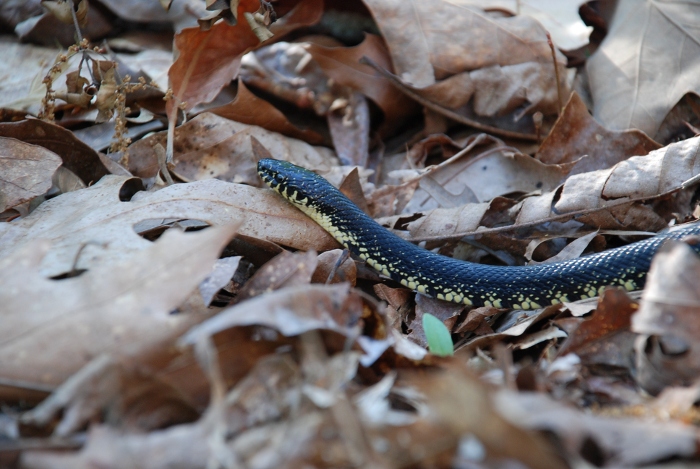 posted at: 23:05 | path: | permanent link to this entry
Sat, 05 Mar 2011
Primitive Melt Cutter
Last year one of our suppliers sent us a simple tool to cut the webbing we buy into the canvas belts we sell. A cartridge heater is fixed in the blade which, when hot, will cut and seal webbing made from synthetic fiber like polyester or nylon.
To work properly, the cartridge needed a 220 volt power source. The diameter being metric seems to narrow the market in cartridges to 220 volts, but no matter, I found a 110 V to 220 V transformer on-line--cheap and a lot easier than wiring in two out-of-phase circuits! A little bit of grease and the arm brings the blade down to the anvil quite easily. A strong spring pushes the blade back up.
Automated cutting machines are comparatively inexpensive, $3000 plus ex factory in China or Taiwan. I don't know how long it will last, but this hand tool tickles my fancy and cost less than $100.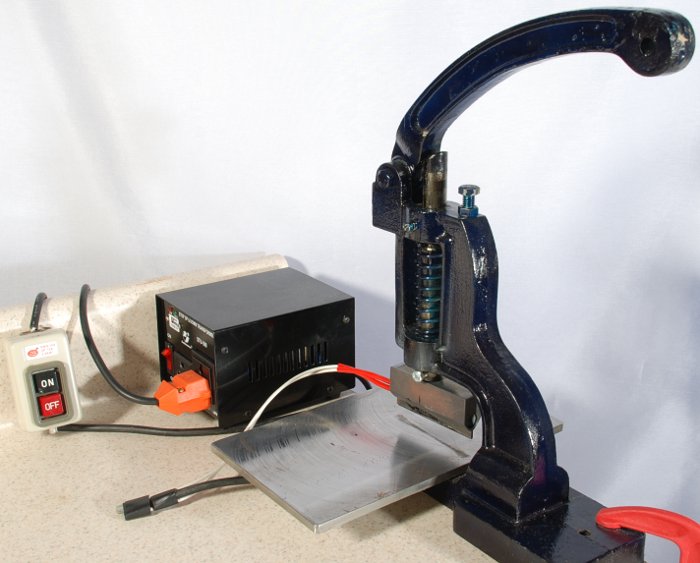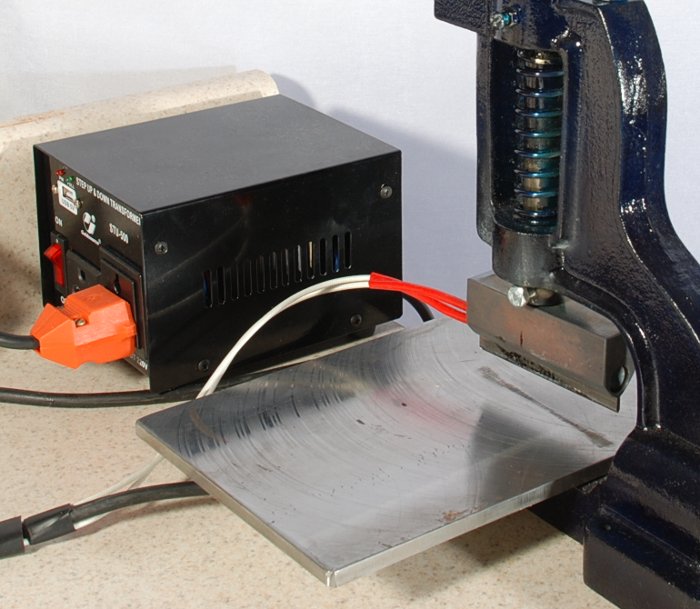 There was only one glitch. The head of the bolt that fixes the hot blade in its socket snapped off. Luckily, I had the right tool, a bolt extractor. It had lain unused in my tool box since the time M. Carpentier helped me rebuild the engine of my 1959 Volkswagen some thirty years ago.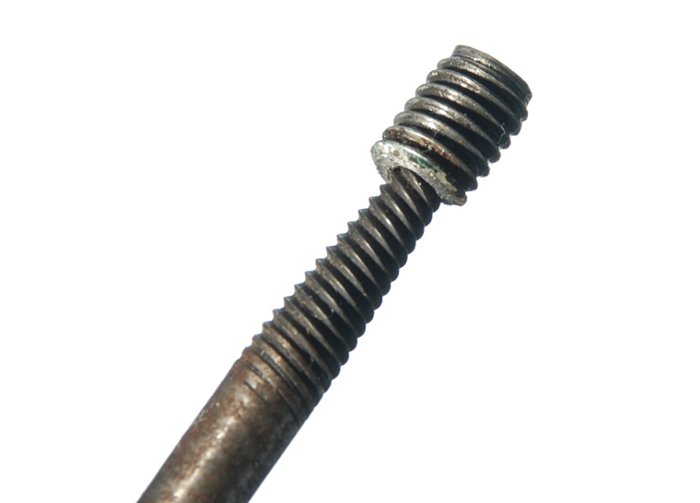 posted at: 23:02 | path: | permanent link to this entry
Tue, 22 Feb 2011
Connections
My kind brother Tom, sent me a recording of Michael Daugherty's "Deus ex Machina" for piano and orchestra, the title referring not to a ruse in drama but to trains. According to Daugherty's notes the third section was inspired by the photographs of trains from the late 50's by O. Winston Link.
I wasn't familiar with Link, but I did meet a photographer who followed trains in the same era, Ted Rose. Ted Rose followed and photographed trains in Illinois, Mexico and Guatamala in the late 50's and early 60's. I met Ted through his wife Polly, who was Dr. Wiegle's secretary at St. John's College where I attended in the early 70's. Polly was a friend to me, and many members of the college. You need only see the picture of her here to understand.
I as at the Rose's one evening, (a beautiful house, by the way, that Ted and Polly had built themselves), and when Ted mentioned his youthful adventures as a train photographer, I was fascinated, and bought one of his photographs to take home to my parents. My mother framed it and saved it and I have it now: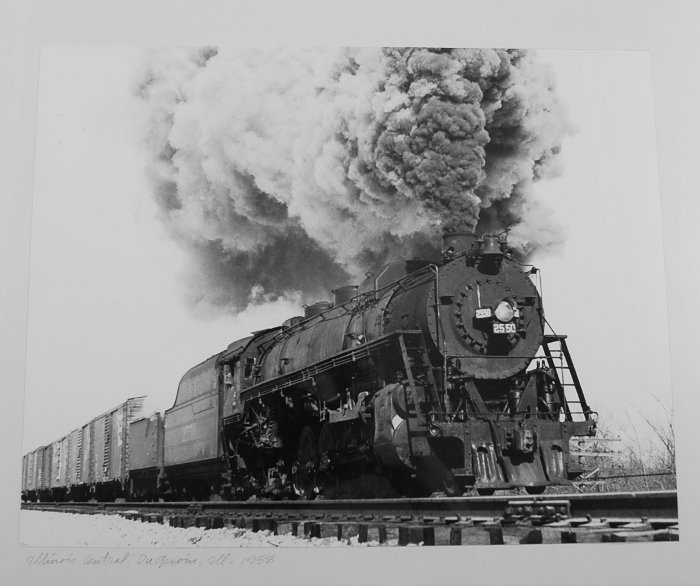 This was taken in 1958 according to Ted's notes at the bottom; he would have been 17 or 18 at the time. If this photo seems to lack distinction, jump over to www.railroadheritage.org and you will see Ted was very good.
I might have thought my father would like the photograph because he had lavished such care on the Lionel trains he bought for us as children. I still have these, too. Here is one, probably from 1956 or so: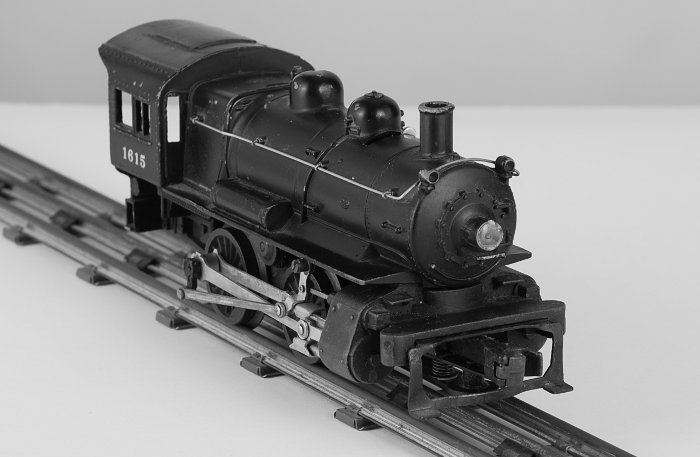 And the music? Not wistful as you might expect from a look back; more a driving, rhythmic sound poem. Worth a listen.

posted at: 23:30 | path: | permanent link to this entry
Sun, 13 Feb 2011
Alabama Snow Storm
February snow in Birmingham.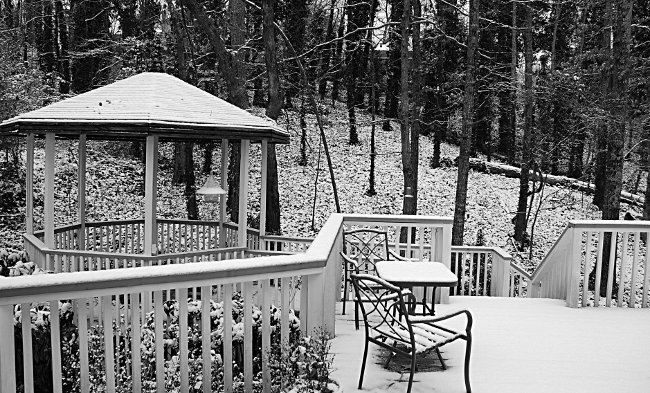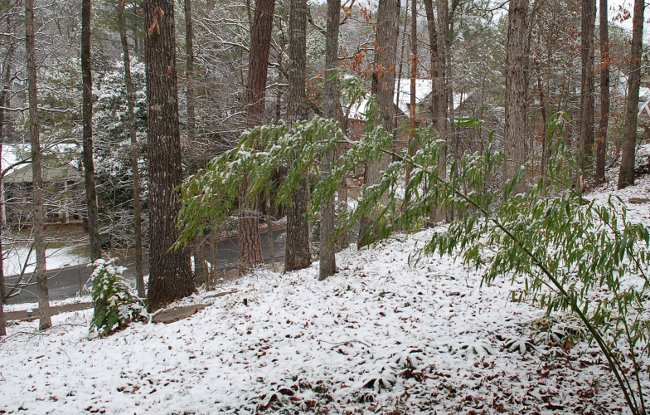 posted at: 23:14 | path: | permanent link to this entry
Fri, 21 Jan 2011
Preparation
In my previous post I showed a cabinet top I bought a Home Depot for $4.13. Today JY and I built a wooden stand for the cabinet to sit on, making an inexpensive work bench. Four 2 x 4's and a piece of plywood, cut and screwed together. Humble, I know, but fun.
It put me in mind how my brother, John, loved carpentry from early on, and how, contrary to what kids with college ambitions were supposed to do, he took "shop" in junior high. His project, an end table, sat between the twin beds in our bedroom long after all the kids had grown and gone.
Some years after graduating from college, John bought a decrepit house and remodeled it in a grand way. Both he and my mother are pictured below in the finished product. One can glimpse his work with the cornices, the book cabinets, the fireplace mantel, the over-the-top kitchen in the background.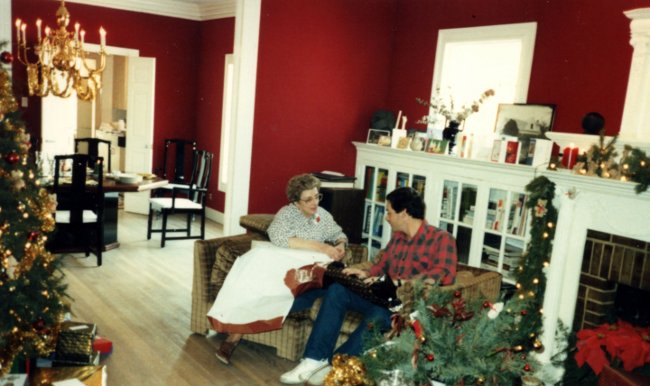 In digging through old family photos trying to find some record of John's carpentry work, I came across an old Artesia Daily News clipping where John and one of the Watson boys were pictured for having won prizes in the state science fair.
Like taking shop, John also took shorthand in high school, probably the only boy in the class and surely the only student with college in mind. When he did enrol in engineering studies in 1972, he recorded the professors' every word and transcribed it longhand back at the dorm later. He did very well in school that year.
It amazes me now to think back on all that.

posted at: 22:01 | path: | permanent link to this entry
Thu, 13 Jan 2011
Measuring Webbing
A problem we have needed to solve in our webbing distribution business has been to find an economical and relatively fast method to measure out and cut given lengths of fabric. This method should be designed to minimize repetitive stress on the hands and arms of the operator.
A first shot is pictured in the table below: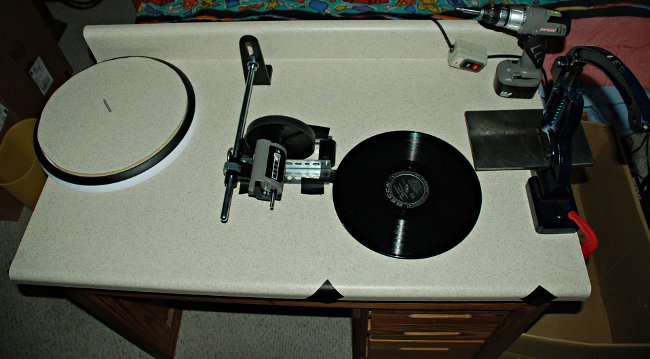 The table surface is a plastic laminate counter top on sale at Home Depot for $4.13, one piece of which was cut out and set into the inexpensive lazy susan on the left. The turntable on the right is constructed from a lazy susan frame with skid pads and a round piece of plywood attached. Stealing a page from Dobsonian telescope instructions, the plywood is topped off with Bing Crosby Christmas carol LP, a recessed hex screw bolted down in the center. A measuring meter is set in the center with angle iron, tape gun rollers and U-bolts for guides. A melt cutter is on the right.
To cut a 30 foot roll from a larger roll, we mount the source on the large lazy susan and thread the webbing though the meter. Then we reset the meter and squeeze the lead between the driver bit and a post on the LP. Squeaze the variable speed driver and away we go.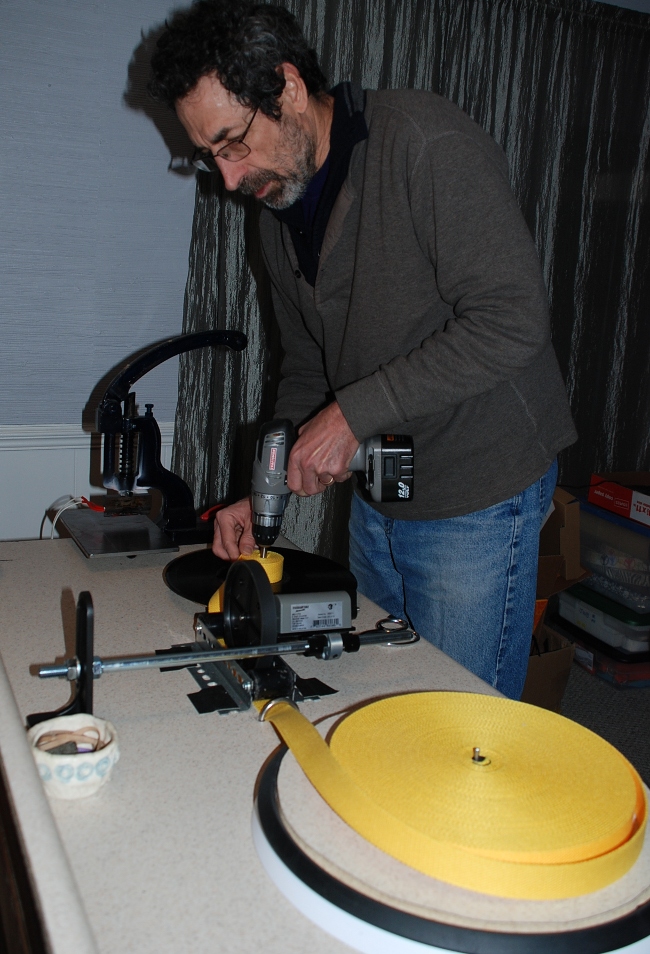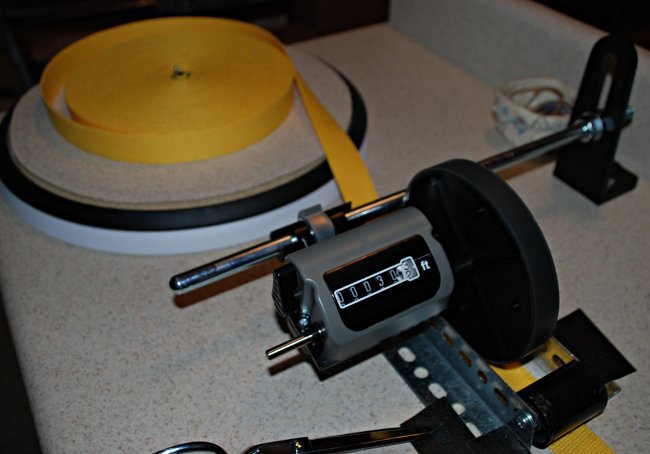 posted at: 11:06 | path: | permanent link to this entry
Tue, 04 Jan 2011
The printing press and the internet.
A chapter in "Radical Enlightenment" by Jonathan Israel reminded me of the unfolding story of censorship of the internet in China. The chapter, "Censorship and Culture", recounts the efforts by religious and secular authorities in Europe to suppress erotica, philosophy challenging religion, and undesirable political opinions during the years 1650 to 1750.
The problem for the churches and governments was the printing press and transportation. Books were printed in many different locations, often surreptitiously, and smuggled across borders. Similar, it strikes me, to the difficulty faced by the Chinese government to control, not just a Google, but hundreds of millions of individual citizens.
Of course, there is no reason to think culture will evolve in China as it did in Europe, but it is interesting to think that the freedom to form ones own opinions and to say, even publish, what one opines was not always a western value. Even enlightened opinion felt the state should defend morals and religion. Intellectual freedom and freedom of the press were radical ideas in Europe during the century. Suppression of the atheists seemed as acceptable to most seventeenth century Europeans as the imprisonment of Liu Xiaobo does to the Chinese today.

posted at: 23:02 | path: | permanent link to this entry
Thu, 24 Dec 2009
Santa Comes By
Every year in Hoover, AL, Santa hitches a ride with the fire department and winds his way down every street in town, waving happily to all that come out to see him, much to the delight of the neighborhood children.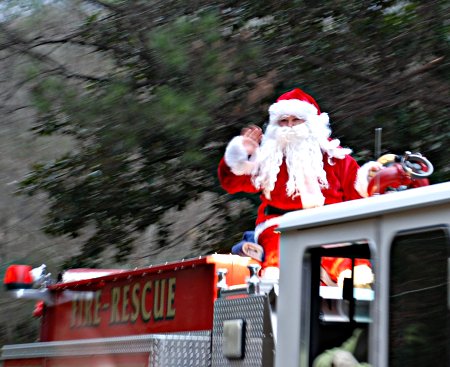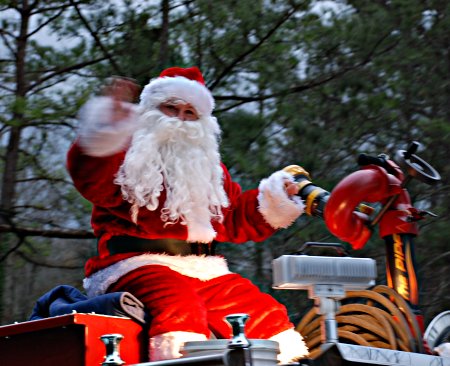 posted at: 16:45 | path: | permanent link to this entry
Mon, 25 May 2009
Armadillo Quads Pay a Call
An armadillo litter, four homozygotes, dropped by our woods for some grub a couple weeks ago. They were probably holed up on the banks of Patton Creek nearby. JY kept snapping photos, but they were oblivious til suddenly one noticed her and, characteristically, jumped. Startled, JY did the same.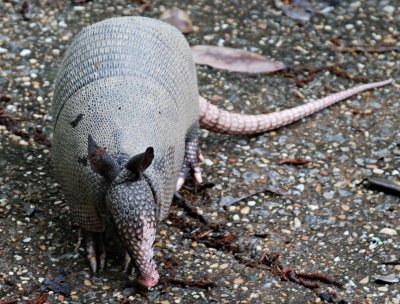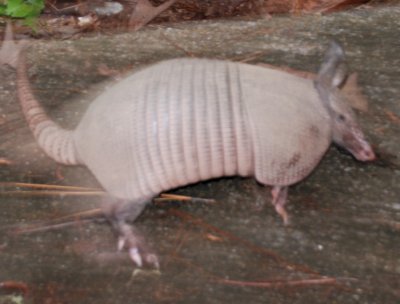 posted at: 23:08 | path: | permanent link to this entry
Sat, 10 Jan 2009
Surround Soft Box
Providing diffused light for small reflective objects (mostly belt buckles for me) was a difficult photographic problem for me. My friend Ben B. recommended a cloud dome, but they list at $200. I finally hit on an inexpensive construction suggested by D. Montizambert in Creative Lighting Techniques.
I cut a 40% sector of a 32 inch radius circle from a sheet of white woven nylon. Sewing the sector along the two radii forms a cone, and sewing a piece of clothes-line wire along the 72 inch circumference provides a frame for the cone. Cutting the tip provides a hole for the camera lense. Usually, I hold it on the lense body by hand, but with a rubber band, one can free his hands. Mounting the camera on a tripod as shown, while not necessary, is also useful for maintaining fine control.
I use two monolights, one one either side of the cone. The flexibility of the cone lets me place the reflection of the lense from a convex mirror pretty much where I please.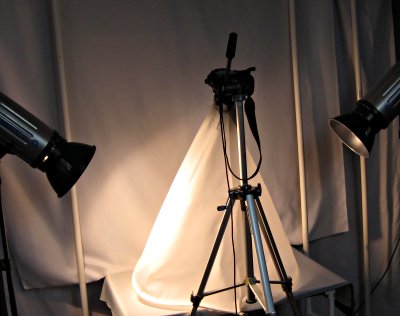 The buckle below illustrates the diffusion of light from the set-up above. While not hard to do in this case, the lense reflection is hidden by the buckle inlay.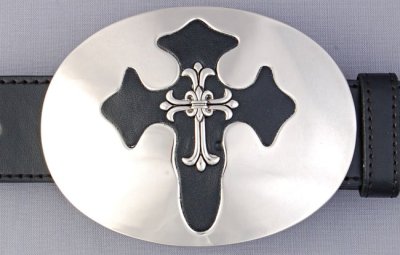 posted at: 17:00 | path: | permanent link to this entry
Sun, 28 Dec 2008
American Crafts
This Christmas we caught a fleeting glimpse of the state of American quilting. Joanne T. has worked in photography and various crafts for many years. In the past three years, she has taken up quilting. Quilting is an entire universe with a history of patterns, a large network of quilters, and many levels of accomplishment.
This month Joanne upgraded her quilting machine. Pictured below, this machine can sew quilts up to ten feet wide. Except for binding the edges, it performs the last step in the quilting process, sewing front and back sheets together with the batting in between. The operator can follow a pattern using a laser guide as Joanne is doing in this picture (see the detail below). Or the operator can sew free-hand, in which case the handles on the opposite side of the arm would be used.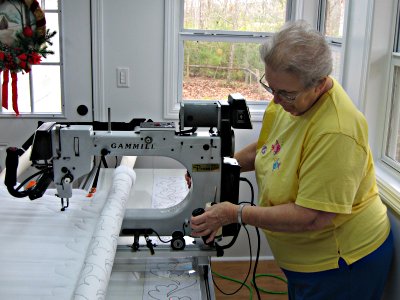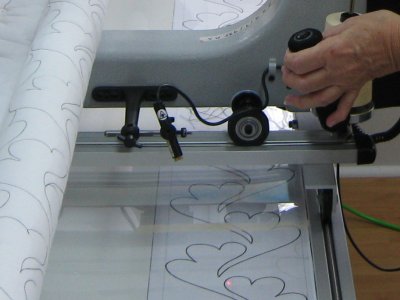 A quilt finished with her previous machine is shown in the next picture (along with her granddaughter, to whom she gave it).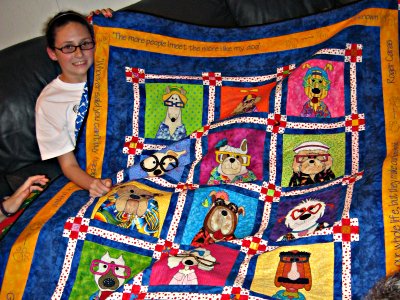 Joanne lives on a small farm in Washington Parish, Louisiana, and sustained major losses in Hurricane Katrina three years ago. As we were about to leave, she pointed across a pasture to the woodlands. The new green growth underneath the sparse canopy of mature trees represented seedlings germinated from the seeds of trees destroyed by Katrina. This is just visible in the background of a photo I had taken earlier (see below).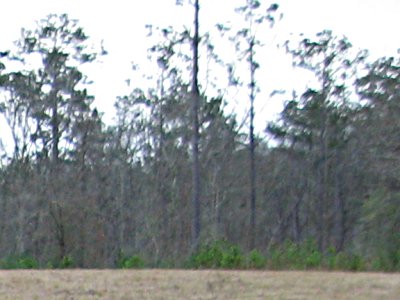 I see an analogy in this. Just as new seed sprouts after Katrina, there is a resurgence of skilled activity in the land where the once proud textile industry was laid low by globalization.

posted at: 14:36 | path: | permanent link to this entry
Tue, 17 Jul 2007
Lake Victoria and Sauper's film
We saw Darwin's Nightmare on DVD this past weekend. We watched it twice and watched the interview with Sauper as well. It seems to have generated some controversy. Wikipedia provides some information there.
Sauper explains he is being indirect, but I think his focus is on the effects of globalization and the arms trade on the people in undeveloped, poorly governed countries. The use of Darwin's name is a little misleading; his interest lies not in natural science, but politics, "Social Darwinism" as he says in his interview.
Nor does economics play a large role. Numerous times his subjects note/claim the jets carrying the fish to Europe arrive empty, and numerous times he asks whether they might not actually bring munitions.
What he presents is devasting, especially the cycle of aid to factories to dislocation of workers to public health collapse. But I'm left desperately curious. What is the train in the background transporting? Where do the fish factory owners and workers live? The street urchins are dressed in rags; where are the tee-shirt vendors? How does cash get from perch to arms?
Sauper makes a very good point in his interview; the images he captured were not easily obtained. It was difficult to transport cameras, to get access to airports, even to follow the fish carcasses. Another demonstration of how much we wouldn't have known without serious effort, and, by inference, how much we do not yet know.
posted at: 11:06 | path:
|
permanent link to this entry
Sun, 01 Jul 2007
Texas tee in Hispaniola
A couple years ago, I mentioned The Travels of a T-Shirt in the Global Economy and how Texas-style cotton farming extended past the Llano Estacado into the Pecos Valley where I grew up. This year I caught a glimpse of the end of the tee-shirt life cycle described in Pietra Rivoli's book.
My son is studying at the University of Miami medical school. For his spring break this year, he went to the Dominican Republic to help out in clinics and learn. He has described some of his experiences there in his on blog, philcopper.com. Here is one of the pictures he brought back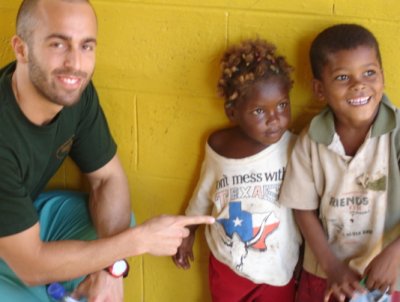 Rivoli describes how the tee-shirts that Americans discard get bundled up and shipped to Africa and sold in small stands there. But of course there are many destinations for America's used clothing and the young medical student pictured seems amused with this small incongruity.

posted at: 20:50 | path: | permanent link to this entry
Addendum and second thoughts on photographing olive green
When I first looked at the difference between actual and theoretical values of red in the "moderate brown" square of my color checker, I just assumed that the 18/256 difference was perceptible. I should record that difference: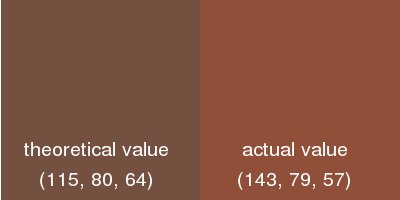 The problem is that on my consumer grade CRT monitor, the actual recorded value appears closer to the card in my hand illuminated either by indirect sunlight or by the Solux halogen light in my study.
Maybe my card is off? Maybe the reflectivity of the fabric under my static light sources is somehow missed by the camera in flash lighting? And I am mistaking some other difference for color difference?

posted at: 18:44 | path: | permanent link to this entry
Wed, 27 Jun 2007
Trying to get colors right in photography
Over the last couple of years or so, there have been a number of fabric colors that I just never seem to capture. Today I just want to make a note of my attempts to reproduce the olive green that some of my military web belts exhibit.
First step: setting the white balance on my camera. I have a Nikon D-50, and I set the white balance by photographing an 18% gray card.
Second step: including a color checker in the photograph of the fabric: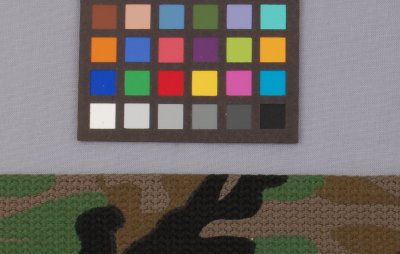 In this photograph, exposure was chosen that seemed best to reproduce the color checker as a whole. Also, the grays correspond pretty well to the values for sRGB at brucelindbloom.com. My 2 high and low values are spot on and the middle two are high by 13 (out of 256). Measurements of the image of the color checker were taken with GIMP's color picker.
My own problem with this photo is that it seems to change the olive drab to a brown drab. The problem can be seen in the color checker in the first spot; the "dark skin" or "moderate brown" have listed sRGB value of (115, 80, 64) while the photograph above reads (139, 77, 57). There is too much red in the medium brown. Using GIMP's color curves to tone the red down around the value of the olive green in the belt does improve the color reproduction of the olive green--but, of course, throws the greys out of whack.
It is also curious to me that the other related color, "foliage" or "moderate olive green" is pretty much in line; (88, 113, 64) in the photo and (88, 108, 65) in the chart.
I can only conclude the problem is in the camera (or the camera software).

posted at: 23:47 | path: | permanent link to this entry
Sun, 03 Jun 2007
Using extension tubes to photograph a fossil
Recently I visited the photo store to shop for a macro lense for my Nikon D-50. The camera is a paradigm of sophisticated technology modern manufacturing has put within reach of someone of modest means. The Nikon macro lenses have not followed suit (yet), the least expensive costing more than the D-50 body. So I purchased a 12-20-36mm set of extension tubes for $150. Surely I need not have spent so much--Rick at Shutter Freaks reports paying half as much for his Canon--but you are paying for more than the product when you go to a camera shop...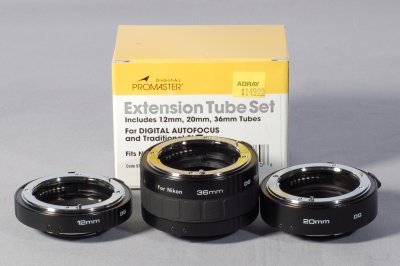 The benefit of the extension tube is to allow the lens to focus on closer objects without significantly changing in angle it subtends, thus increasing the angular magnification. Wikipedia has more detail. The downside is that the lens cannot focus on distant objects. Furthermore, built-in calibration of a zoom lens that keeps an object in focus while zooming no longer works, of course. Also a longer extensions and shorter focal lengths, the distance between the nearest and farthest object that can be brought into focus becomes so small as to make focusing difficult. But, hey, a microscope is useful with a narrow range of focus andwithout the capacity to focus on distant objects.
For my own records, at least, here is ranges I get for the Nikkor AF 70-300mm set at 70mm. Distances are approximate (precise to 1/8") and are what I measured between the focal plane mark and the object. At some point between the 20mm and 36mm extension, the minimum and maximum distances invert with respect to extending or retracting the objective lens!

Focal range for Nikkor AF 70-300 set at 70mm

| | Lens retracted | Lens extended |
| --- | --- | --- |
| no extension | 60" | infinity |
| 12mm extension | 22.125" | 24.125" |
| 20mm extension | 18.875" | 19.25" |
| 36mm extension | 15.375" | 14.75" |
In contrast to this, setting the zoom to 300mm and using the 12mm extension, one can focus on objects from about 4 to 25 feet.
To illustrate, here is a wonder fossil picked up by Bill Haywood, forester, author and rock hound extraordinaire. He says this about it:
This is out of the ordovician era. Corals were just barely evolving. The main fossil in the center is a branching coral and some researchers think that it might even have been a sponge but we are sticking with branching coral. Most of the other fossils are brachiopods. This deposit was made about 500 million years ago. The layer you are looking at is blanketed by limestone so the ocean must have receded and this was a clay deposit in a delta area. How about the detail on those fossil surfaces!?
The area from the 12mm extension is about 4" by 2.625":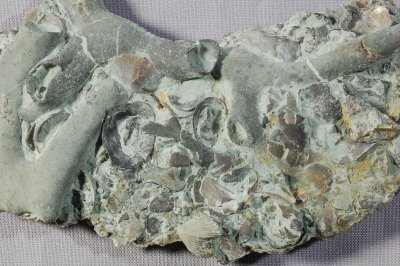 and the area from the 36mm extension is about 1.75" by 1.125":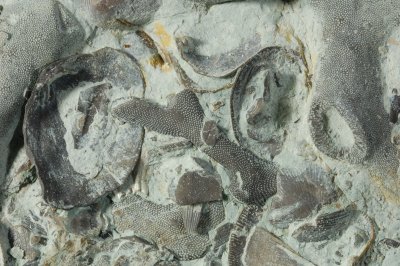 Finally, here is a pixel-for-pixel detail from the previous shot: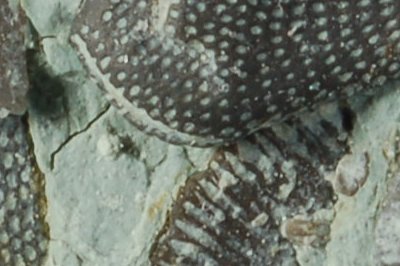 posted at: 16:00 | path:
|
permanent link to this entry
Tue, 29 May 2007
Andrew Wyeth revisits Kuerner's farm
Nearing 90, Andrew Wyeth revisited Kuerner's hill to paint Margaret Kuerner's portrait this year. Blind and confined to bed, now close to 90 herself, she has lived at the foot of Kuerner's hill, across Ring Road from the Kuerner farmhouse for over fifty years. So that famous knoll is more than a fanciful background, it is the view from Margaret's window.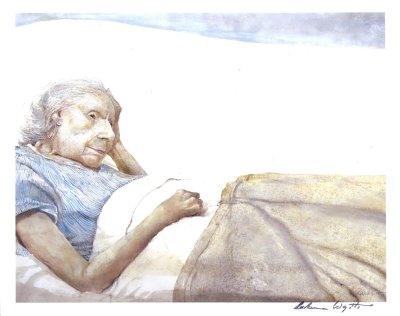 Wyeth, like any artist, I suppose, has his own intentions, and Wyeth himself has often exhorted his viewers to look beyond the image, and perhaps the juxtaposition of his icon and reflective denizen gesture towards a retrospection of his own. But Margaret's serenity is not Wyeth's creation and is no accident of time. She was gentle before and her memory is clear. When I mentioned the photo to her, she chuckled at the memory of Palm Beach and her own youth before coming to Kuerner's.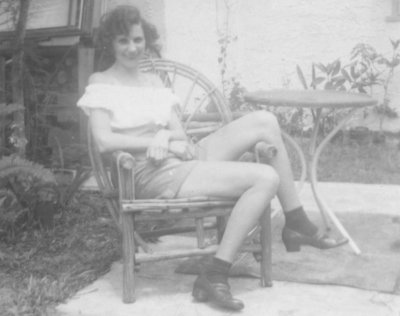 posted at: 09:53 | path:
|
permanent link to this entry
Mon, 03 Apr 2006
Halogen light stand for studio photos
Getting accurate colors of the products I photograph for my website has been a constant struggle for a novice photographer like me. I feel I've made real progress for a modest investment following a wonderful article over at creativepro.com.
Figure 3 in this article plots the spectral power distributions of special "daylight" fluorescent lamps and of filtered halogen lamps against the D50 referent. I found that using "natural sunshine" fluorescent bulbs and calibrating the white balance of my Nikon D-50 to a gray card solved the problem I was having representing various olive greens. Needing directional lighting and seeing how filtered halogen achieves a color rendering index of 98 or 99, I decided to try making my own halogen fixture. The parts I have bought are
Smith-Victor 1/4 x 20 screw adapter for light stand

Provides a screw stud for attaching a light assembly to one of their light stands.

2 3" corner braces

From the hardware store, these "L" brackets provide two vertical mounts as well as horizontal angle adjustment. They're tightened down with thumbscrews for convenient adjustment.

2 3/8" conduit hangers with speed thread

Instead of conduit, the hanger holds a halogen light socket. I used a 1/4" x 3/4" serrated flange bolt to attach the hanger to the "L" bracket and tightened it with washers and thumbscrew to facilitate vertical angle adjustment.

2 2" mending plates

These are attached to the hanger clamp bolt by two hex nuts and provide a handle for vertical adjustment of the lights--I expect the clamp to get too hot to handle comfortably.

2 MR-16 sockets

The filtered halogen bulbs (Solux) I need have an MR-16 base--one reason I couldn't use off-the-shelf fixtures I saw at the hardware store.

1 120VAC to 12VDC transformer

Halogen lights use DC current. I'm expecting to use 2 50 watt bulbs but I spent an extra $10 for the 150 watt transformer just in case I need more wattage later.

1 6' cord set with switch

This one came with a socket at the end, but I cut it off and spliced the cord to the transformer.

7' 12 gauge wire

I'm planning to let the transformer rest on the floor, so I need a length of heavy guage wire (because of the high amperage) to run from the floor to the top of the light stand.
The total cost has been $68 for the assembly and $14 for two 50 watt filtered halogen bulbs with most the assembly cost due to the transformer ($39). This does not include the cost of the light stand, but it does include the cost of various 1/4" nuts, washers and bolts as well as electrical connectors which one might already have lying about the shop.
Here is a photograph (click to enlarge):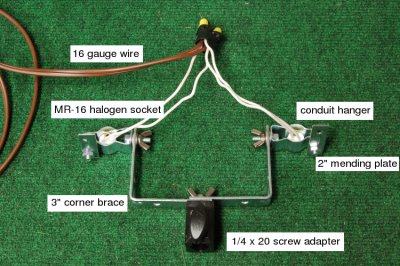 posted at: 09:41 | path:
|
permanent link to this entry
Thu, 23 Mar 2006
Dr. Bergren talks to Kiwanis about breast cancer
Dr. Carl Bergren spoke to his Dearborn Kiwanis Club last night about an apect of his surgical practice. I, myself, at my son's recommendation, have been slowly making my way through Atul Gawande's Complications: A Surgeon's Notes on an Imperfect Science. The combination induces a disquiet that, I suppose, accompanies any meditation on our mortality, but there is also an exhilaration at gaining a new perspective on a familiar topic, the practice of medicine.
It is easy to forget how we deal with the world largely through abstractions, and it is easy to forget how difficult and fallible is the process of abstracting from experience. In fact, religion and other human behavior show how abstraction can be distasteful as well as difficult. Surely there is no better example of the jarring confluence of shamanism and science than the medical profession.
Not to put words in his mouth, but Dr. Bergren seemed to feel from his own experience that the increasing incidence of cancers is environmentally related, but at the same time seemed overwhelmed by the difficulty of distinguishing which of the many changes in our environment might be most harmful. He mentioned a population in Japan which exhibited one of the lowest breast cancer rates, but then said when members of that population are removed from their location and diet, they quickly exhibit the same rates of cancer incidence as their new group. (You can imagine how difficult it would be to establish even that one simple statistical fact!) He speculated that the reason might be related to the high consumption of soy products in the Japanese population.
On the other hand, he did mention that there appear to be differences in cancer incidence among racial groups. When questioned further, he said that african-americans tend to exhibit more aggressive forms of breast cancer, but when asked whether that fact might be due to differences in diet and environment, he said only that the issue was a contentious, even political, one. Again, think how difficult a statistical question is being asked. It is hard enough to relate race to genome and near impossible to tease out factors of diet, culture, access to and practice of healthcare.
Another suspect environmental factor Dr. Bergren mentioned several times was growth hormones passed to us through meat. Although he allowed no connection between breast size and cancer rates, he did say that through the years of his practice he felt that there had been an increase women's breast size on average. He didn't seem to feel it was related to obesity, but rather allowed his suspicion to rest on environmental factors like growth hormone. When pressed on this question, shouldn't there be some statistically testable aspect of his hypothesis, he only commented on the difficulty, observing how the similarity of human and synthetic growth hormones fed to livestock made it impossible to relate even the levels of hormone-related chemicals to meat intake.
After considering the difficulties of medicine, Dr. Bergren mentioned the book Doctors Never Lie with which I a not familiar, but he certainly put me in mind of one with which I am: How to Lie with Statistics. And, as I often do, I felt amazed how humans were ever able to abstract anything useful from the morass of physical experience.
posted at: 09:39 | path:
|
permanent link to this entry
Sat, 11 Mar 2006
Arguing fair about big pharma
I picked up The Truth about Drug Companies a couple weeks ago. The New York Review of Books maintains an exerpt on-line here. Dr. Angell has performed a great service to the public writing this information up.
I worry that she might have weakened her argument by pushing it too hard. One thing in particular caught my attention. She misunderstands the phrase "opportunity cost of capital" and argues rather heatedly on the basis of that misunderstanding. Basically, industry apologists use this idea when estimating the cost of developing new drugs. The idea is used to rationalize investments made a different points in time; somehow the cost of an investment is greater when one must wait longer for a return.
The point isn't so much that she should misunderstand financial jargon, but rather what the mistake revealed about her mindset. If she seems less judicious, she is less persuasive.
posted at: 22:58 | path:
|
permanent link to this entry
Progress or Stagnation?
A new paper Where did the Productivity Growth go? by I. Dew-Becker and R. J. Gordon received pundit coverage February 10 by Samuel Brittan in the Financial Times and again a couple weeks later by Paul Krugman in the New York Times. Basically, the vaunted gains in productivity have gone to the superstars while the median wage earner has realized no palpable gain over the last 40 years.
On the other hand, a recent report by the Census Bureau 65+ in the United States: 2005 states that "people in the United States are living longer and healthier lives than ever before," with emphasis on healthier. In fact, "disability among the older population is declining," and "studies over the past two decades have revealed substantial declines in the rates of disability and functional limitation."
"People today have a better health expectancy than did their predecessors," Richard Suzman, head of the Behavioral and Social Research Program for the National Institute on Aging said. "Education, in particular, is a particularly powerful factor in both life expectancy and health expectancy, though truthfully, we're not quite sure why." (quoted by the NYT.)
Do these fit together? Possibly. Brittan, a week later, questions the importance of GDP growth as a broad measure of economic well-being, saying, for example, "there is an extremely loose connection between income and reported life satisfaction" (translation: money doesn't make you happy).
I wonder how, say, safer automobiles relate to productivity, or, perhaps, fewer smokers.
posted at: 21:59 | path:
|
permanent link to this entry
Mon, 27 Feb 2006
User-agent: *
Disallow:

posted at: 14:33 | path: | permanent link to this entry
Tue, 07 Feb 2006
The Superbowl's best moment
My favorite Superbowl moment was Mick Jagger pausing to say they could have perfromed for Superbowl I--all things come to those who wait!

posted at: 15:46 | path: | permanent link to this entry
What is it with Hillary?
Iraq is a mess, but high oil prices are enriching all sorts of unsavory regimes. Iran is going nuclear as North Korea already has. The budget deficit will beggar our children while our carbon emissions will make this wonderful earth less hospitable to them. Our manufacturing base is eroding.
But still I'm hearing derogatory jokes about Hillary Clinton. Why is that? Is it really true we are puppets on strings, so easily distracted?
Having put the spotlight on Hillary, just what is so horrible about her? She stood by Bill in his hour of shame. Her one effort of note while first lady was to promote health care reform. Would such reform really have been so bad? Have the Republicans and insurance companies since improved the efficiency or efficacy of our health care?
Not only are these people insulting Hillary; they're insulting our intelligence.
posted at: 15:44 | path:
|
permanent link to this entry
Thu, 26 Jan 2006
Rep. McCotter speaks to Garden City Kiwanians and Rotarians.

Today I attended a Kiwanis Club meeting in Garden City, Michigan. The speaker was Thad McCotter, U.S. Representive from the area. I might have mentioned earlier how Representive John Dingell gave an interview to KiwaniTalk last December. Where Mr. Dingell seemed the voice of reason itself, Mr. McCotter seemed rather the voice of blind ideology. Maybe I'm just getting old.
Among a number of rather startling pronouncements, Mr. McCotter held that
Many members of Congress had been briefed and were thereby complicit in the NSA's warrantless surveillance of US citizens.
The United States should not trade with China because it is communist.
Mexico is a "failed state", and the United States should hold the Mexican government responsible for illegal immigration.
If the United States moved to a single payer health insurance system, high unemployment like the 9.7% rate in Germany would be a consequence. Furthermore, a system like Canada's would necessarily result in a two tier system where only the extremely rich would receive quality health care.
US reservists do not resent the government's measures to extend their active duty. Mr. McCotter has not heard any complaints from wounded US servicemen pertaining to treatment after release from Walter Reed Hospital. In fact, their only problems have been due to the protestors outside the hospital, who, however within their rights, are irresponsible.
Yet outside ideology, Mr McCotter seemed affable enough, often cracking self-effacing jokes. No political glad handing though; I didn't see him shake hands with anyone, and he marched out of the restaurant speaking only to his assistant and looking at no one or thing except the television in the entry way.
So all this gets me thinking about unstable systems, though. Why does the difference between Mr. Dingell and Mr. McCotter seem so much more extreme than would represent the differences among the populations of the two suburban, contiguous congressional districts?
posted at: 14:49 | path:
|
permanent link to this entry
Tue, 08 Nov 2005
Andrew Mazzara retires from HFCC

Andrew Mazzara, president of Henry Ford Community College, was a guest on KiwaniTalk last week where he discussed his imminent retirement. He has been president of HFCC since 1990. Remarkably, he is also an alumnus of HFCC.
Mr Mazzara plans to spend more time volunteering with various community organizations as one might expect, but he will be spending time in two other ways that pricked my interested; he will be starting a new business, and he will be spending time on his hobby of, get this, stamp collecting.
I felt some simpatico with Mr Mazzara starting a new business at an older age, but of course I'm being silly; there is no comparison of our positions after that. But stamp collecting, what a curious thing for a college president to be interested in. Philately has always seemed, well, rather pointless, indicative of lack of imagination and ambition, of virility.
Now, though, I have my father's stamp collection. Many stamps are carefully sorted into small envelopes by country. Mostly, though, there is the Paragon Album, copyright 1931. Might have belonged to a boy, the extra nephew among his aunts 13 children shoehorned into a row house in working class Chester, PA. Nathan Hale, 1/2 cent; Washington, 1 1/2 cents, 200th birthday, 1932; Pony Express 80th anniversary in 1940; Boulder Dam, 1935; Panama Canal 25th anniversary in 1939. Looks more like a high schooler moved back in with father, sister, brother.
Education and travel, unlike for Mr. Mazzara, was not on the radar screen (yes, there were radar screens around, but not many: history of radar). But stamps brought the world to Chester. Stamps for Palestine, Dutch Indies, Bavaria, Cameroon, Ceylon, China (when there was only one), Congo, Republic of Cuba, Middle Congo, Persia, Federated Malay States. His window on a vast mysterious world; mine on an equally remote idiosyncratic past. Maybe not a damascene moment, but there is more to this than I had given it credit for.
posted at: 00:17 | path:
|
permanent link to this entry
Thu, 13 Oct 2005
October 9, 2005, Chi-Te Liu and Maria Quintana exchanged wedding vows on Watson Is., Miami, Florida. Maria is closer to home. She came to Miami from Cuba with her father and mother in 1979. Thirty years earlier, Chi-Te's father, Tze-Nan Liu, fled across the "Formosa Strait" from the forces of Mao.
Tze-Nan's flight was made in haste and with the expectation it would not be long. He was warned his life was in grave danger, and the subsequent fates of his father and older brother and even infant daughter demonstrated the urgency of the warnings. Tze-Nan was joined in Taiwan the next year by his wife, Tsuei-Chi Chen, and their 6-year-old daughter. (Tsuei-Chi had taken only one daughter to the train station in order to avoid the appearance of flight--Tsuei-Chi's sister was to have brought the infant separately; however, her sister decided the trip was too arduous for Tsuei-Chi to bring both children and that, besides, the exile would be temporary.)
I do not know how the Quintanas escaped Cuba nor do I know how Tze-Nan got to Taiwan, but I have often heard how Tsuei-Chi paid what gold she had to a "yellow buffalo", a man who carried the young daughter, Shuei-Ching, on his back and led Tsuei-Chi through the Mai Po Marshes in the night from Shenzhen to Hong-Kong, how Tsuei-Chi somehow booked passage to Taipei and searched for half a year to find her husband on a strange and chaotic island. ("How could you give all your gold away at a time like that?" her daughters would later ask. "Because I knew I had my education," she would reply. Tsuei-Chi's father, a scholar, was very forward looking at the time and had provided an education for his daughters.)
In 1965 Tze-Nan and Tsuei-Chi's eighth child and only son was born. In 1988, after thirty years of work and service in Taiwan, Tze-Nan and Tsuei-Chi emigrated to the USA. Miami, Florida, to be exact. I believe the principal reason they came to the US was to provide a better future for Chi-Te. And, indeed, Chi-Te finished his military service in Taiwan, came to Florida a year later, and immediately enrolled in college--something that had not been possible for him in Taiwan. Chi-Te and Maria met at MDCC in 1990 and were friends for fifteen years befored they married today.
Miami is a port city, gateway to Latin America, so it was not so surprising that Maria's good friends flew in from Germany and Honduras or that the full range of human skin from dark to light was scattered about the ballroom. But there was still that common thread that bound the families. Both had braved great adversity, both had endured the pain of exile, and both had risked everything. Both were scarred by the major social upheaval of the twentieth century, and both have survived to witness their children start a new life together in a foreign land.
Double happiness, Chi-Te and Maria!
posted at: 23:14 | path:
|
permanent link to this entry
Biked from Harrison, MO, to Cardwell and back, mid-July, 2005. Funeral in Harrison that day. An 80 yr old rancher, accident while working, death not expected. Whole town attended, even the US 287 restaurant closed down. Restaurant is run by a young couple. They bought it in December. Their new sign leaning against back of restaurant, waiting to be put up. Wife rushes about, husband chats with guests. Water good, from restaurant's own 65 foot well. We had the "miner's special"--in fact could see pit and tailings at nearby Butte along ride. Big older gent chats up high-school age boy about football.
Cute small school-house at Cardwell, across the street from the pottery store. Having watched Elephant since then, it seems like a dream of another world.
Another guest had been reading a ranchers' mag; he thought it interesting they raised white-tailed deer in Ohio. He must have been reminded by the magazine I was reading. It tickled me to find a current copy of "Science News" on a magazine rack (a la doctor's office) along with Nat'l geographic and a ranchers magazine. Guess hubby has more time to read.
I noticed a young teen jogging towards his destination, going behind the restaurant wearing the latest style basketball shorts. Small town where everyone knew everyone and yet interconnected with the world at large.
posted at: 22:47 | path:
|
permanent link to this entry
Mon, 26 Sep 2005
There are many wonderful things to think about packed into Tracy Kidder's Mountains beyond Mountains. Fun for me was Paul Farmer's lexicon. The term hermeneutic of generosity as in "I have a hermeneutic of generosity for you because I know you're a good guy. Therefore I will interpret what you say and do in a favorable light. Seems like I (Farmer) should hope for as much from you (Kidder)." had a special resonance. I remember struggling with French at St. John's College some 30 plus years ago. We were translating passages from Maximes by La Rochefoucauld. One maxim in particular has stuck with me for some reason, "Self love increases or diminishes for us the good qualities of our friends, in proportion to the satisfaction we feel with them, and we judge of their merit by the manner in which they act towards us.(88)" What strikes me is the same observation made cynically by La Rochefoucauld is made, well, generously by Paul Farmer. Except that now there is an element of consciousness, of will involved. "I know you are a good guy so I shall tilt my judgement in your favor." And an element of generosity; he is tilting his judgement in advance of Kidder's act of publishing his observations of Farmer.
Self love transmogrified simply to love...
posted at: 10:31 | path:
|
permanent link to this entry
Mon, 12 Sep 2005
Yahoo and the categorical imperative

When students read Kant's categorical imperative, they often argue no moral imperative is categorical. They argue that lying, though surely proscribed by the categorical imperative, can be the moral thing to do, say, when Nazi SS men come to the door and ask if there are any Jews in the house. Now Yahoo defends helping Chinese authorities saying, "Yahoo must ensure that its local country sites must operate within the [local] laws, regulations, and customs."
The phrase "Yahoo must" must surely resonate with those who have seen "The Corporation". As examined in that documentary, corporations also seem to follow a categorical imperative, but one that finds US corporations "accepting illiberal Chinese laws" (The Christian Science Monitor) just as some circumvented US laws to do business with Nazi Germany just a generation ago.
Well, armies, nations and corporations are comprised of individuals acting. Shame on you, Jerry Yang.
posted at: 21:56 | path:
|
permanent link to this entry
Mon, 15 Aug 2005
A book was reviewed recently in London's Financial Times (paid subscription!) about globalization with a single commodity as fulcrum--cotton. The book is The Travels of a T-Shirt in the Global Economy. Here's a link to the NPR story. The story starts with cotton farms around Lubbock, Texas, and that brings back memories.
I grew up in Artesia, New Mexico. That's not west Texas, but the climate is similar and the culture closer still. Artesia sits in the Pecos Valley in southeastern New Mexico, maybe 80 miles from the Texas border and twice that to Lubbock. If that seems far, look at a map and see that no major city is closer. The trick is water. It may be 80 miles to the Texas border, but there isn't any farming between the Pecos and west Texas either. There's cattle ranching, but that doesn't take as much water.
Take a look at 908 Hermosa Drive, Artesia, New Mexico on Google maps or, better, Google Earth. It doesn't get you exactly to my house (no one related lives there now), and numerous things have changed but you can still see how close my house was to the fields. I can't tell for sure, but it looks like some kind of trees are being grown in those fields now. Well, it used to be cotton and alfalfa in rotation. As kids we'd play in those fields. Sometimes we'd bring the odd cotton boll home to glue on a poster for a school project, or maybe just out of curiosity.
If you look slightly to the east of my house you see a school-yard, Hermosa Elementary School. One of my classmates in first grade came home with me one day. His name was Raul. My mother, a farmers daughter herself, God rest her soul, told us we couldn't play, Raul was Mexican, and we didn't mix. Raul was older anyway, he hadn't finished first grade yet because he had to work in the cotton fields in the summer when cotton needed hoeing and, more importantly, in the fall when it needed picking.
My first job, outside of yardwork and washing glassware in my father's laboratory, was at H & J's Grocery. Well, one day Doug Ricketts called me up and said we should go over to the cotton compress and work. It sure made Richard, my manager, angry, but that's what I did. It paid well, but didn't last very long. In her book, Pietra Rivoli, says that cotton compresses no long compress cotton, but ours did then (about 1969). It was a big old (as in late 19th century vintage if I recall) steam machine. They'd take fork lifts into the warehouses to find the bales, bring them to compress, and load them up on boxcars. It was dusty, hot, tiring work, but at least we were out of the direct sun. I don't know what the men did when there weren't orders.
It must have been the next summer that Doug's brother, Mark (since deceased of MS), and I tried our hand at hoeing cotton. We got the work because the farm foreman, Wiley Roundtree, belonged to the church where Doug and Mark's father, Glen, was pastor. Whoa! We were expected to work 10 hours a day, 6 days a week under that scorching sun. The Mexicans worked multiples faster--cotton would never have been king had it depended on the likes of us.
In fact, one time one of the Braceros came over and asked for water. They didn't carry it for some reason, while we would never have survived without it--not that we tested our limits in that regard since a water break was always on our minds as respite from the drudgery.
Needless to say, when the work at Wiley's farm was done, the Mexicans went on to other farms, farms that didn't exactly seek out white kids' labor. When my last day there began, I didn't know it was my last day. Wiley put me to work weeding the sorghum field. I don't think he really needed me there, but I had ridden my bike out there and he must have felt sorry for me (which just shows his kindness since he had his job by virtue of being married to one of the farmer's daughters, and they didn't treat him well, I understand. In fact, I ran into him a couple years later working in the oil fields, so I knew he left the farm). Working in the same field was a lone Mexican. A young man. He wore plastic slippers. Unbent by age as yet, we managed to talk a little despite my meager Spanish and his total lack of English. I remember he asked me if we liked to dance in town. I remember being all the more surprised at his good spirits given that one of his compatriots had been found dead in the workers quarters the previous week.
And all they will call you will be "deportees"
posted at: 20:44 | path:
|
permanent link to this entry
Mon, 01 Aug 2005
Seen in the Casper Star-Tribune as we drove through Wyoming last month: "Indians help ease outsourcing quirks." No that's not Asian Indians but native Americans: Oglala Lakota Sioux, Choktaw, Cedar Band of Paiutes. People like Mary Underbaggage, Karlene Hunter and Cecilia Fire Thunder.
Seems like native Americans are a little more familiar with English than Chinese data center workers. So native Americans proof for mistakes in data entered in China from forms filled by hand in America.
Now who figured out that there were citizens right here in America willing to work hard for modest wages? The article only says it was Simon Tam and Philip Chan, two of USE's Hong Kong partners, who actually went and met the Indians.
Strange world.
posted at: 22:13 | path:
|
permanent link to this entry
Thu, 14 Jul 2005
Phil over at philcopper.com has insightful observations of an incident he witnessed recently (his July 8th entry). This anecdote is far less dramatic but, perhaps, more common.
I went to buy a wireless card for a laptop at Compusa today. "Buy" is a bit of a euphemism, the card, counting the pain-in-the-ass rebate, was $7. I went looking for it because I found it on Compusa's website and I needed it today.
Well, let me say that race relations in Detroit in general and Dearborn in particular have been especially problematical. For an easy read see "Middlesex" by Jeffrey Eugenides; for Dearborn Google Orville Hubbard. And let me observe that the African-American community forms the back-bone of the retail clerk workforce in the area.
When I got to Compusa, the cheap card was not to be found among the network cards. I saw several white bodies in the store uniform but did not catch an eye. Just as I'm on my way to ask for help at the check-out counter, an African-American clerk asks *me* if he could help. Tony, if you happen to go in, has a youthful manner, but also has a little gray creeping in at the sideburns.
Now while Tony was looking up the card information at a store terminal, a young (i.e. no gray) causasian male comes up to Tony and, in front of a customer, reminds him that he has yet to perform some menial task, explaining that he didn't want him to "remember" at 4:30, at which time he would not have time to do it. Tony seemed unfazed, but if you think about it, the caucasian guy was more than condescending, he was insulting, and in front of a customer. Anyhow, I proceed to the cash register and find a familiar face but a totally unfamiliar manner. Cliff, also African-American and also a little older, has been at the cash registers there for years. He has always been rather exuberantly friendly. But not today. I don't think about what's eating him, I'm just getting angry that I'm getting flak for the credit card I'm using and that I can't get the details of the rebate before I sign the credit card slip.
So, at the end of the transaction, I rather sarcastically thank Cliff for his patient assistance and turn away. Then, suddenly there is a twenty-something caucasian woman obviously prompting Cliff on his forgotten lines. Hastily, Cliff re-engages my attention and asks if I would like to save $20 a month or more on my telephone bill. Oh, I see, Cliff has to ask if I want a 2 year warranty on a $7 card and has to ask if want to buy some kind of phone plan, and maybe he has to ask if I want fries with that card, but he forgets and gets berated by a girl who was still in middle school the first I transacted with Cliff at that store. And again, it wasn't so subtle and it was in front of a customer.
Maybe it's not racism; maybe with all this outsourcing to India, we're insourcing a caste system.
posted at: 15:29 | path:
|
permanent link to this entry
Mon, 09 May 2005
Thomas Friedman is sounding the alarm. See here for his interview with Wired Magazine. "Finish your homework, people in China are starving for your jobs." Well, why aren't kids doing their homework? Isn't the country populated by individuals making decisions according to the way they see the world? Maybe kids don't study engineering for a reason.
I rented a room from a math professor in Socorro, New Mexico, in 1976. He had been a musician and a high school music teacher. Then he changed careers and went to NM State U to study mathematics, got a PhD in 3 years, got a job and tenure. I guess NM Tech wasn't very prestigious 30 years ago, and he wouldn't have been renting spare bedrooms if the money were great. But I'm telling you, his life was OK. He didn't need to spend much time on math and he and another prof liked to rebuild classic luxury car engines.
Similarly, I had a friend in southern CA in the late 70's. A 4.0 graduate of USC, he tried for years to make a living as a musician and finally gave up. He studied computer science at UC Irvine for a year (about) and quickly got a job programming. I don't think he was crazy about the work, but he liked the money and liked the theory.
Dave Edwards, a math prof at U of GA, mentioned how he went back to see some of his high school teachers in Queens (I could be butchering this story; I haven't seen Prof Edwards for 17 years) and one, in particular, bemoaned how none of the younger teachers read mathematics journals anymore.
On the other hand, having mentioned Prof Edwards, certainly a free thinker, I should mention he, himself, took a very materialist view of education. The kids are no dummies; they have desires; they see a world in which they have certain opportunities to satisfy those desires; and they are quite rational in pursuing those opportunities.
Unless studying engineering provides an attractive opportunity to those kids, Thomas Friedman has written no more than a jeremiad.
posted at: 22:33 | path:
|
permanent link to this entry
Tue, 03 May 2005
The Wall Street Journal, picked up here, ran a story on a report from the Insurance Institute for Highway Safety, which can be found here. It appears that car occupants are surviving crashes with SUV's more frequently. No solid reason was offered. Maybe airbags, maybe car passengers are using seatbelts more. But despite the cartoon in the report, and despite the surge in popularity of SUV's, no one seems to have mentioned that the SUV's themselves may have been driven less aggressively by the new demographic sitting behind their steering wheels.
In the same issue of the WSJ (see here) is an article regarding the association between religious practice and reduced mortality. Never mind the cause; just imagine the difficulty of teasing a conclusion like this "...studies showed a 25 percent lower mortality rate for those who attend religious services at least weekly," from noisy data. Google turns up a research proposal dated January of this year which claims
[O]nly very limited work has seriously considered whether selectivity is responsible for this association. Indeed, there are a number of factors that may influence both religious involvement and mortality that can account for this statistical association.
And finally the new statistics on obesity from the CDC:
Being overweight (BMI of 25-29.9) was not associated with excess mortality. The study found that 87,000 fewer deaths than expected were associated with being overweight.
Apparently, these statistics are pretty good. Perhaps there is a cautionary tale in how previous statistics were not so much bad as badly extrapolated.
posted at: 22:44 | path:
|
permanent link to this entry
Thu, 28 Apr 2005
In Wired magazine this month is a feature titled "Anime eyes". Dark colored contacts are in vogue among Japanese schoolgirls because they make eyes look larger, more like childlike anime characters.
I immediately thought of Stephen Jay Gould's essay "A Biological Homage to Mickey Mouse" (available on-line, incredibly, here). Gould's essay picks up on Conrad Lorenz's earlier work on human response to juvenile features, such as large eyes, bulging craniums, and retreating chins. Mickey figures in because his appearance over the 50 years prior to the essay had evolved towards a more juvenile appearance.
I guess the association between neoteny and sexuality is more involved than an evolved proclivity to protect babies in this case, however.
posted at: 23:05 | path:
|
permanent link to this entry
Tue, 26 Apr 2005
Sometimes we are amused by, even surprised at, a different realization of a familiar fact. Last week, for example, I was dressing after swimming at the civic center, when a father and his young son came into the locker room. The boy must have been about 4 and was excited about going to the pool, so he wanted to show his father his newfound way to doff his shirt: by pulling the shirt down over his shoulders and waist rather than over his head. Ah, yes, a young child's head is larger with respect to the rest of his body than is an adult's.
posted at: 17:08 | path:
|
permanent link to this entry
Mon, 25 Apr 2005
As I was beginning the half-marathon at Pinckney Sunday, I overheard a conversation between two men as they ran past me. One said that his high-school running coach had maintained if runners followed his principles, they would still be running in their 50's. And there he was, 52 years old starting out on his 135th marathon. (He has run the Boston Marathon 11 times.)
He was starting this marathon 40 minutes late because of the weather. (The marathon started before the half-marathon.) In fact, we were in the midst of a "winter storm", and there had been enough snow during the night to make the roads slippery. The marathoner running past me explained to his companion that he had skidded off the road and had had to wait for a tow truck to pull him out of the ditch before he could continue along to Pinckney.
posted at: 15:06 | path:
|
permanent link to this entry
Wed, 20 Apr 2005
An article in yesterday's Wall Street Journal detailed how television stations have run programs where the interviewee appears to be a non-biased evaluator of children's toys when, in fact, he had been paid by the companies selling the toys to mention them. This is objectionable mainly, I think, because broadcast television, at any rate, uses a public resource and consequently has a responsibility to the public to distinguish clearly between news and paid advertisement.
It appears to me this is the same problem encountered when television stations broadcast propoganda from the government as news.
How many other unexamined ideas have slipped into our consciousness as actionable opinions?
posted at: 22:17 | path:
|
permanent link to this entry
---